Towards an Ontology and Canvas for Strongly Sustainable Business Models: A Systemic Design Science Exploration
Except where otherwise noted, this item's license is described as Attribution-NonCommercial-ShareAlike 3.0 Unported
---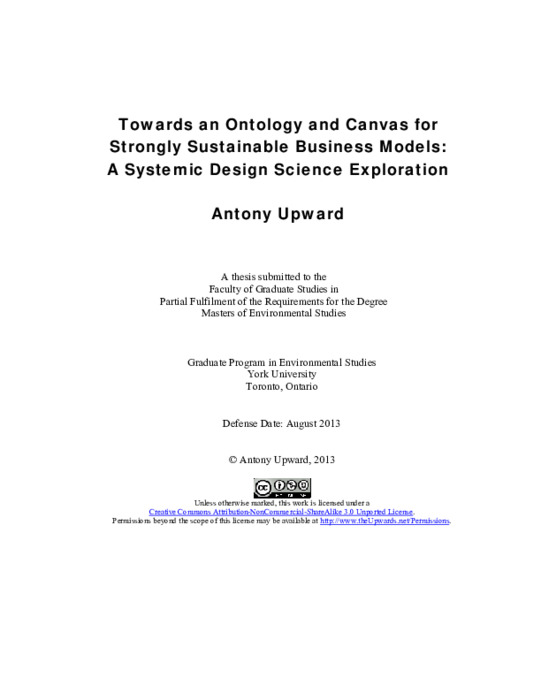 Date
2013-09-13
Abstract
An ontology describing the constructs and their inter-relationships for business models has recently been built and evaluated: the Business Model Ontology (BMO). This ontology has been used to conceptually power a popular practitioner visual design tool: the Business Model Canvas (BMC).

However, implicitly these works assume that designers of business models all have a singular normative goal: the creation of businesses that are financially profitable. These works perpetuate beliefs and businesses that do not create outcomes aligned with current natural and social science knowledge about long term individual human, societal and ecological flourishing, i.e. outcomes are not strongly sustainable. This limits the applicability and utility of these works.

This exploratory research starts to overcome these limitations: creating knowledge of what is required of businesses for strongly sustainable outcomes to emerge and helping business model designers efficiently create high quality (reliable, consistent, effective) strongly sustainable business models.

Based on criticism and review, this research project extends the BMO artefact to enable the description all the constructs and their inter-relationships related to a strongly sustainable business model. This results in the Strongly Sustainable Business Model Ontology (SSBMO). To help evaluate the SSBMO a practitioner visual design tool is also developed: the Strongly Sustainable Business Model Canvas (SSBMC).

Ontological engineering (from Artificial Intelligence), Design Science and Systems Thinking methodological approaches were combined in a novel manner to create the Systemic Design Science approach used to build and evaluate the SSBMO. Comparative analysis, interviews and case study techniques were used to evaluate the utility of the designed artefacts.

Formal 3rd party evaluation with 7 experts and 2 case study companies resulted in validation of the overall approaches used and the utility of the SSBMO. A number of opportunities for improvement, as well as areas for future work, are identified.

This thesis includes a number of supplementary graphics included in separate (electronic) files. See "List of Supplementary Materials" for details.
Collections