The Smad7 Protein Interaction Network in Skeletal Myogenesis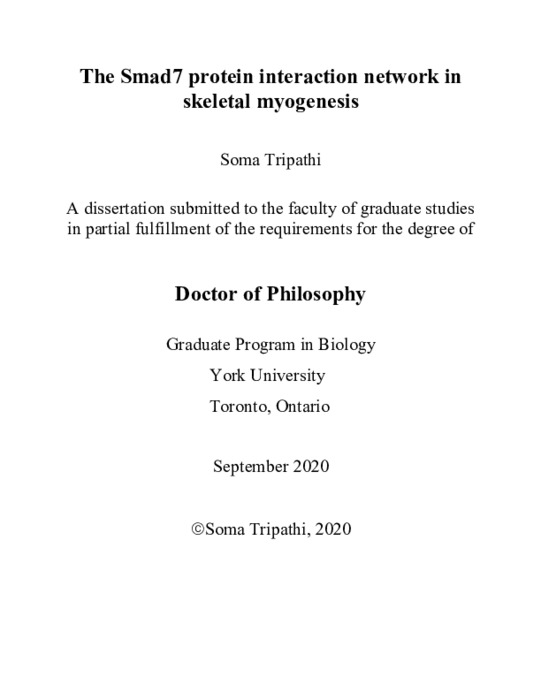 Date
2020-11-13
Abstract
Myogenesis or muscle development begins with cell cycle arrest and continues with a differentiation program that converts myoblasts into multi-nucleated cells referred to as myotubes. A complex hierarchy of transcriptional activation events leads to the expression of skeletal muscle associated genes. Our group previously suggested that the repressive effect of myostatin on muscle differentiation is countered by Smad7 but interestingly no such effect was observed with another TGF- ligand indicating the possibility of variant aspects of the downstream signaling. Moreover, another study from our group demonstrated co-operation of Smad7 with other transcription factors is required in order to enhance differentiation of skeletal muscle. These observations led us to the central purpose of this dissertation which was to further characterize the molecular function of Smad7 in skeletal muscle cells.

The -catenin protein has several different properties and functions in cell adhesion at the plasma membrane as well as acting as a transcriptional co-activator in the nucleus. In the first study reported herein, a physical interaction between Smad7 and -catenin in skeletal muscle cells was documented. While interaction of Smad7 and -catenin had been reported earlier in prostate cancer cells (1), the role of this interaction in muscle cells was unknown. This study demonstrated that the 575-683 amino acid region of -catenin constitutes the interaction domain of Smad7 (we dubbed this region SID for Smad7 Interaction Domain). Subsequent experiments indicate that Smad7 and -catenin function co-operatively on the muscle -specific ckm promoter. Furthermore, deletion of the SID region of -catenin greatly reduced the effect of Smad7 on the ckm promoter, suggesting its crucial role during muscle differentiation. A dominant negative role of -catenin-SID was also demonstrated by its ability to inhibit the function of wild type -catenin. -catenin and the Mediator complex subunit (MED) 12 interaction had been previously reported (2), and our study extended that observation, documenting a novel interaction of MED 13 with Smad7 which also requires -catenin. This study indicates that the Smad7--catenin interaction is important for the recruitment of the Mediator complex for gene activation. The subsequent chapter documents a follow up to the first study aimed at characterizing the protein interactome of -catenin and SID in skeletal muscle cells. Affinity Purification- Mass Spectrometry analysis identified the unique protein interactome of -catenin and SID in growth and differentiation conditions. Consecutive GO ontology analysis characterized the protein interactors based on their cellular component domain and biological processes.

Hippo signaling pathway components are expressed in C2C12 myoblasts, primary skeletal muscle as well as myotubes (3). The hippo pathway has been documented to be a crucial mediator of tissue growth in a number cell types, but to date our understanding of the role of this pathway in skeletal muscle is incomplete. Thus, the third major study in this dissertation was aimed at understanding the role of the Hippo effector protein, TAZ, in skeletal muscle cells and its possible role in modulating the function of Smad7 and -catenin. This led to the documentation of a novel interaction between Smad7 and TAZ in cultured skeletal muscle cells. TAZ inhibits the function of Smad7 and concomitantly inhibited the activity of -catenin. Previous studies have indicated the regulation of TAZ by direct phosphorylation that is controlled by cell density. Our study demonstrated phosphorylation of TAZ in differentiation conditions (high cell density) where phosphorylated TAZ was mainly localized to the cytoplasm.

In summary, studies reported in this dissertation have characterized several novel Smad7 protein interactors and their functional role in the cellular context of muscle specific gene regulation. In future, it will be of considerable interest to further examine the physiologic role of Smad7 and its interacting proteins in post-natal muscle physiology in health and disease.
Collections