Transendothelial Movement of Adiponectin in Diabetic Vasculature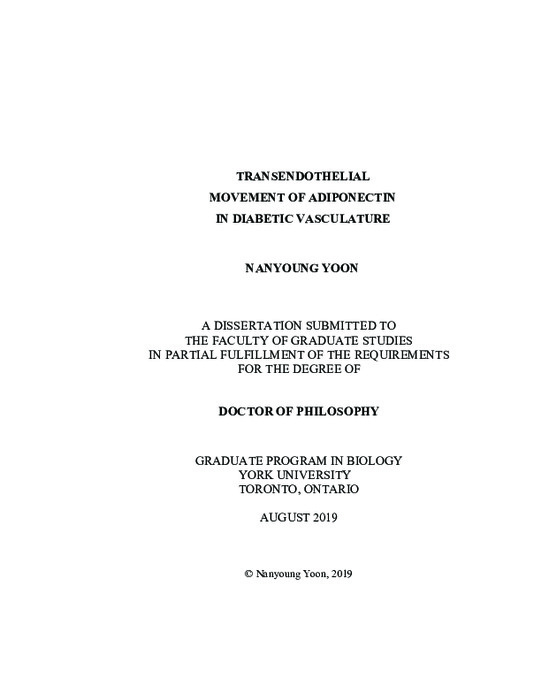 Date
2019-11-22
Abstract
Adiponectin is one of the most abundant circulatory hormone that plays an important role on homeostasis of glucose and lipid, oxidative stress, and inflammation by enhancing insulin sensitivity. It is highly implicated to pathogenesis of metabolic syndrome. This thesis examined: (study 1) glucocorticoids effect on adiponectin flux by regulation of permeability and its mechanism involved, (study 2) impact of high glucose on transendothelial movement of adiponectin and a whole-body biodistribution to understand functional significance, (study3) influence of iron overload on endothelial permeability of adiponectin to investigate the regulatory mechanism.
Findings from study 1 indicated that glucocorticoids altered tight junction profiles that led to reduce endothelial paracellular permeability and to decrease adiponectin contents in rat skeletal muscle. In study 2, the data demonstrated that hyperglycemia decreased vascular permeability and resulted in increased adiponectin transendothelial movement, which observations were tested by multifaceted vasculature platforms in vivo, ex vivo and 2D & 3D in vitro with high glucose treatment. Lastly, study 3 showed that iron overload induced oxidative stress and altered tight junction expression to elevate permeability of endothelial monolayers. This increased adiponectin movement across the endothelial barrier.
In summary, my studies demonstrated that adiponectin transendothelial movement was regulated by vascular permeability. The alteration of permeability relied on expression of tight junction and its regulatory mechanism resulted from diabetic conditions.
Collections